This isn't your normal networking meet-up. We don't care where you work or what you do, we're here for true connections.
Join The Melanin Collective and our special guest, Viviana Rodriguez, for Summer Soirée: a new kind of networking sisterhood rooted in our collective power.
White supremacy banks on women of color working against each other. In our separateness, our power is diminished. At Summer Soirée, The Melanin Collective is crafting intentional meet-ups where you can not only spotlight what you bring to the table, but meet, partner, and build relationships with other women of color with like-minded missions and purposes. This isn't about name-dropping or "what do you do"-contests: Summer Soirée is about growing our collective power, one network at a time.
This Wednesday, August 28th, join The Melanin Collective and our special guest, Viviana Rodriguez, for some tea and conversation. Let's come together to build a sisterhood of women building empires, organizing in our communities, remaking ourselves and supporting each other's growth.
Location
Oeste Bar & Cafe
722 Clay Street, Oakland, CA 94607
Our vision is to build an establishment that is rooted in and celebrates Oakland's rich history and culture. Through the flavors of our cuisine, our carefully curated drink menu, and rich environment, we hope to appeal to the diverse group of foodies and cocktail enthusiasts in and around the Bay Area. Oeste is a WOC-owned establishment.
Please note location is NOT wheelchair accessible.
Cost
"Del amor no se come." - Old Salvadoran proverb that means "you can't live off love." Everything we do takes time, energy, and resources from something else. With that, we ask for $10 to save your spot to join us. We all have to be equally invested in the struggle but if paying $10 would be a financial burden, please indicate that when you RSVP. We're working towards being accessible and providing everyone with an equal opportunity to join us.
Ticket includes light appetizers and MC swag!
This event centers the experiences of women of color and people with disabilities and seeks to be inclusive to trans, two-spirit, queer, and non-binary folks. Have questions? Check out our FAQ's.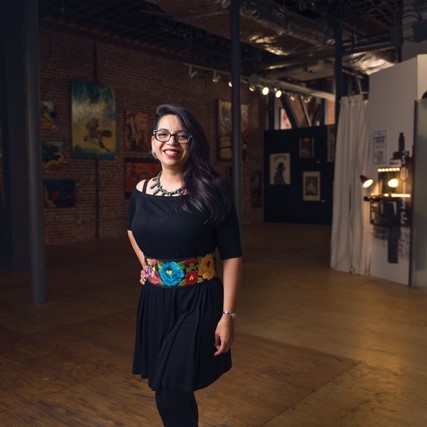 Viviana Rodriguez, Founder of E14 Gallery
E14 Gallery showcases master and upcoming visual artists with deep ties and strong love for Oakland. The artists hold respect for Oakland; a place often underappreciated as a metropolitan center of global histories of resistance, where freedom fighters and movement artists contributed to a unique landscape of working-class, people of color post World War II.
Executive Director, Co-Founder, The Melanin Collective